Bamboo Coasters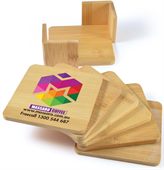 90mm x 6mm x 90mm(d)

Bamboo 6 Piece Coaster Sets can be branded in your company colours.
25 min qty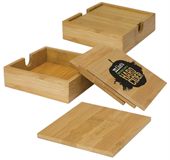 100mm x 100mm

Show your support for protecting the environment with Personalised Bamboo Coaster Sets.
25 min qty
Create a lasting impression with these beautifully handcrafted bamboo coasters for your enviro-friendly marketing campaign. Very stylish coasters, a natural and sustainable product perfect with your custom printed logo.